The ancient herbs of the Vikings
Angelica is an ancient cultivated plant in Greenland. After the ice age it spread in Europe, the Faroe Islands, Iceland and Greenland. The Norsemen and Vikings knew and used the plant and they brought it with them when they went to Greenland, where it became a vital source of vitamin C which prevents scurvy and other ailments in people as well as animals.
According to tradition angelica was given to man by an angel – the archangel Gabriel himself, who reputedly planted it with his own hands and used it as a weapon against plague. This is why the plant's Latin name is angelica archangelica.
In earlier times the Greenlanders would harvest the root (called usungusaq in Greenlandic) right after the snow melted and eat it with lard.
The stalks were eaten with boiled cod or liver and have always been considered a delicacy. Angelica has also been preserved in lard and stored in bags with other herbs and berries for use in winter. This way the Greenlanders covered a large part of their vitamin needs.
Breaking off a stalk of angelica and rubbing it between your fingers, you immediately notice its similarity to ginseng.
Angelica has a strongly perfumed scent, reminiscent of anis, musk and orange, and because the stalks from the male plant are very sweet these were used as a sweetener in cooking. The seeds are used to flavour vermouth, gin and chartreuse, and the leaves give warmth to a tasty aquavit. Angelica is also the characteristic taste in Bénédictine liqueur.
Because of the extreme growth conditions at the edge of the Arctic Circle angelica, as well as other herbs, has developed a very unique taste which is not found in similar plant species growing elsewhere.
A rediscovered spice
You could call angelica the forgotten spice. Not many know the plant today, and only a small number among the older, Greenlandic population use it in their cooking despite it having been one of their most important cultivated plants. Angelica has been nearly forgotten.
When Kvann Kompagniet rediscovered and reintroduced angelica and other herbs from Greenland in 2009, it was because we wanted to contribute to the preservation of a unique piece of history of taste and culture which was on its way to being entirely forgotten. Since 2012 we have therefore developed delicacies taking the scent and taste of Greenland's wild herbs and put them into a new culinary context.
Safran panna cotta with melon and carrot soup
2 dl. whole milk
2 dl. whipping cream
3 tbs. creme fraiche 38% (sour cream)
100 gr. sugar
1 vanilla pod, seeds screaped out
1 good pinch of saffron
6 sheets of gelatine
Melon carrot soup
1 cantaloup melon, peeled and juiced*
2 carrots, peeled and juiced
Juice of ½ a lemon
2 tbs. honey (preferably liquid honey)
1 tbs. dried angelica leaves
3 tbs. blueberries, cut in halves
1 tbs. cane sugar
Recipe for 2 people
Instructions
Soak gelatine sheets in just enough cold water to cover them for 5 minutes. Remove and squeeze excess water from the sheets. Set aside.
In a saucepan, heat milk, cream, créme fraiche, sugar, vanilla seeds and saffron on medium heat until the sugar has dissolved. Stir constantly to prevent the milk from burning. When the sugar has melted, remove from heat and stir in the gelatine. Leave for 10 minutes for the saffron colour to steep. Stir again, then place in forms or moulds and cover with cling-film. Refrigerate for at least 4 hours.
Melon carrot soup
Pour melon juice, carrot juice, honey and angelica into a saucepan. Heat on low heat, just enough to dissolve the honey. Remove and cool in a refrigetrator for at least ½ an hour. Once cooled, stir in the lemon juice. Mix the blueberries with the cane sugar. Use as a garnish.
*If you do not have a juice machine, blend melon and carrots to a very fine puré. Heat as above but then strain through a cheese-cloth or very fine strainer.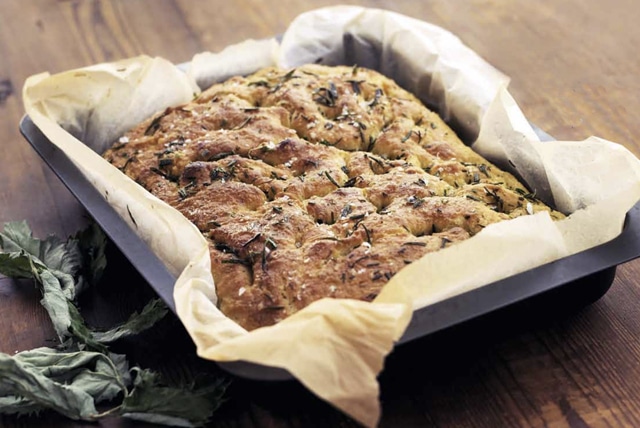 25 gr. fresh yeast
7 dl. cold water
12 dl. all purpose flour 
1⁄2 tbs. salt
1 tbs. dried angelica leaves
rosemary oil  (see below)
coarse salt
Rosemary oil
2 dl. olive oil
25 gr. fresh rosemary sprigs
Instructions
Mix angelica, salt and flour, 1 dl. at a time, stir thoroughly. When all the flour has been incorporated, form into a ball. If the dough is too wet add ½ a dl. flour more until it can be formed into a ball. Place in a bowl and cover with a cloth. Let it rise to double size.
Line a baking tray with baking paper. Brush baking paper with rosemary oil, then place dough onto the paper. Stretch the dough to fit the tray evenly. Let it rise to double size again, while pre-heating the oven to 200 C. When done, poke a bunch of holes in the dough with your fingers. Brush the dough liberally with the rosemary oil. Sprinkle with coarse salt and bake for ½ an hour. Take the bread out and brush with rosemary oil again. Turn the heat down to 180 C and bake for another ½ an hour. At this point the bread should be golden brown. Check if done. If not, bake for another 10  minutes. Remove from the oven, brush with rosemary oil and sprinkle with a little more salt.
Rosemary oil
Heat the oil in a saucepan on low to medium heat. Fry the fresh rosemary in the oil for 30-40 seconds, just enough to get the leaves crispy. Drain on a paper towel. Remove the leaves and discard the stems. Chop the leaves roughly. When the oil has cooled down completely, the rosemary leaves can be added to it again.
Marinated halibut with angelica and thyme
300 gr. halibut fillet
15 gr. salt
1⁄2 dl. white wine vinegar
1⁄2 dl. water
125 gr. sugar
2 tsp. dried angelica leaves
1 tsp. Arctic thyme
Recipe for 2 people
Instructions
Cut the halibut into large cubes (about 1×1 cm). Put them in a deep dish or bowl and sprinkle with salt. Cover with cling-film and leave in the refrigerator over night.
Pour vinegar, water and sugar into a saucepan and simmer over medium heat until the sugar melts. Then add angelica and thyme. Remove from the heat and let cool until the marinade is lukewarm.
Remove the fish from the refrigerator and drain off any excess liquid. Pour the vinegar marinade over the fish and put back in the refrigerator for one more night. The next day the halibut will be ready for serving. Try serving this dish on a bed of rocket or baby salad.
Coconut curry soup with scallops and Parma ham
6 sea scallops
1 tbs. Arctic thyme
1 organic lime – juice from the whole fruit, zest from half of it
2 tbs. olive oil
4 slices of Parma ham
Coconut curry soup
1 tin coconut milk (400 ml)
1 clove garlic, cruhed
10 gr. fresh ginger, peeled and grated
50 gr. carrots, small cube
½ a red chili, finely chopped
1 tbs. olive oil
1 tbs. madras curry
1 tbs. dried angelica leaves
Salt & pepper
Recipe for 2 people
Instructions
Mix thyme and olive oil with lime juice and zest, pour over the scallops and leave in the refrigerator for at least ½ an hour. Heat a grill or grill pan to high heat. Brush with a little oil. When it is hot, grill the scallos 1 minute on each side. Remove from the heat and put back in the marinade. Heat a frying pan to medium and fry Parma ham for about ½ a minute on each side, until crispy. Remove from the pan and place on paper towel to drain excess oil.
Soup
Heat the oil in a saucepan, add garlic, ginger and carrots. Sauté for 1 minute. Add the curry and sauté for another 2 minutes. Add the coconut milk and the angelica. Bring to a boil, then reduce the heat and let simmer for 15-20 minutes. Season with salt and pepper. Pour the soup into bowls and garnish with 3 scallops and pieces of Parma ham.
3 cl. Crowberry gin
3 cl. Campari
3 cl. sweet Vermouth
Instructions
Fill a low glass with ice cubes. Pour all ingredients into the glass and stir for about a minute. The idea is that the water from the melting ice will dilute the drink a bit. Taste as you go. Garnish with a slice of orange or orange peel.
Turbot on cabbage with pomegranate salsa
300-400 gr. turbot fillets
2 eggs, lightly beaten
2 tbs. all purpose flour
100 gr. cornmeal flour
1 tsp. salt
1 tsp. pepper
1 tsp. dried angelica leaves
Sautéed angelica cabbage
100 gr. spring or savoy cabbage, finely shredded
2 tbs. dried angelica leaves
10 gr. butter
1 tbs. fresh chives, chopped roughly
salt & pepper
Pomegranate salsa
1 pomegranate
½ a bana shallot, minced
1 tsp. dried angelica leaves
½ lime, zest and juice
½ tsp. chili powder
1 tsb. fresh dill, finely chopped
1 tsb. olive oil
Salt & pepper
Recipe for 2 people
Instructions
Mix cornmeal flour, angelica, salt and pepper in a shallow bowl or plate. Make breading station: 1 bowl with flour, 1 bowl with the eggs and a plate with the cornmeal flour. Turn the fish fillets, one at a time, in 1) flour, 2) eggs, 3) cornmeal flour. Set aside.
Heat a frying pan to medium heat, add oil and wait till it is hot. Fry a couple of fish fillets at a time, for about 2 minur
tes or until golden brown on each side. Drain on a paper towel.
Sautéed angelica cabbage
Heat a frying pan to medium heat, melt the butter on it and then add the angelica. Sauté for about 30 seconds, then add the cabbage. Continue to sauté for about 5 minutes. (The cabbage should be soft and slightly translucent, do not brown it. If it begins to brow add a little water). When it is cooked, mix in the chives and season with salt and pepper.
Pomegranate salsa
Remove the seeds from the pomegranate and mix with the rest of the ingredients. Season with salt and pepper and serve with the turbot.